Short description
Slicing – quarter and half quarter cut.
Matching - natural (random matching).
Top veneer quality - plus.
Bottom veneer quality - B

Surface - rough cut.
Veneer thickness - 0,6 mm.
Price group -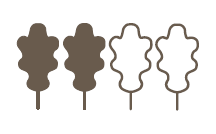 Available ex stock
Veneered chipboard - 2800 x 2070 x 19mm.
Description
Veneered board with a rough cut surface.
Rough cut surface resambles boards straight from the sawmill. The wood's naked structure is visible and palable on the refined surface.
Ideal for customised processing. Ideal for making one's mark. Abrasive webs, sponges and brushes leaves traces, strenghten the structure and emphasise the character of the wood.