Short description
Slicing – quarter.
Matching - bookmatched.
Top veneer quality - plus.
Bottom veneer quality - B

Surface - rough cut.
Veneer thickness - 0,6 mm.
Price group -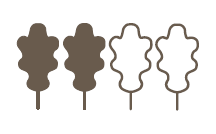 Available ex stock
Veneered chipboard - 2800 x 2070 x 19mm.
Description
Veneered board with a rough cut surface.
Rough cut surface resembles boards straight from the sawmill. The wood's naked structure is visible and palpable on the refined surface.