Short description
Slicing – quarter and half quarter cut.
Matching – natural (random matching).
Top veneer quality - plus.
Bottom veneer quality - B

Veneer thickness – 0,9 mm.
Price group -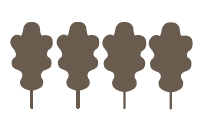 Available ex stock
Veneered MDF - 2800 x 2070 x 19mm.
Description
The Oak Antique wood veneer looks vibrant, natural and dignified. Intergrowth, knots, medullary rays and cracks all play their part in the overall appearance. All these figures makes the Oak Antique unique.
This exlusive veneer No 8 can play a big role in creating exceptional designs.
Attention! Open defects as knotholes and cracks are filled with black glue to achieve aesthetic colouring with depth effect. Unfortunately black glue can affect veneer color while processing it.