Short description
Slicing – quarter and half quarter cut.
Matching – natural (random matching).
Top veneer quality – plus.
Bottom veneer quality - B

Surface – brushed.
Veneer thickness – 0,6 mm.
Price group -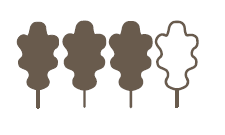 Available ex stock
Veneered MDF - 2800 x 2070 x 19mm.
Description
This natural oak veneer stands out with his bronze color. This effect accurs by processing veneer with special chemical substances.
The result is a more vivid and natural color than it could be produced by using stain. Because of his color oak can resemble some more exotic wood species. Particularly warm undertone oak will give coziness and comfort feeling to interior. Leaves of veneer are positioned as if randomly stacked, board by board - deliberately unmatched to bring out the color and grain. Random matching creates the appearance of solid wood with a casual feel.