Short description
Slicing – quarter and half crown cut.
Matching – natural (random matching).
Top veneer quality – plus.
Veneer thickness – 0,6 mm.
Price group -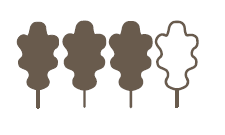 Available ex stock
Veneered chipboard - 2800 x 2070 x 19 mm.
Veneered FUMAKO - 3000 x 1250 x 19 mm.

Description
This is a knotty oak veneer with overall natural look. For this oak veneer strips with the most flattering knott's are chosen and glued. The result is oak veneer with natural variegated look.
Attention! Open defects as knotholes and cracks are filled with black glue to achieve aesthetic colouring with depth effect. Unfortunately black glue can affect veneer color while processing it.