Short description
Slicing – quarter and half crown cut.
Matching – natural (random matching).
Top veneer quality – plus.
Bottom veneer quality - B

Veneer thickness – 0,6 mm.
Price group -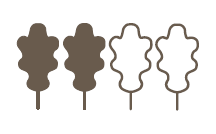 Available ex stock
Veneered chipboard - 2800 x 2070 x 19mm.
Description
Oak No. 11 is matched by using quarter and crown cut veneer strips. Therefore you might see straight and "V" form resembling lines.
Surface of veneer is plain and color is natural.
Natural veneer matching: