Short description
Slicing – crown cut.
Matching – book matched.
Top veneer quality - selected.
Bottom veneer - B quality oak.

Veneer thickness - 0,6 mm.
Price group -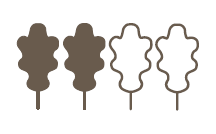 Available ex stock:
Veneered chipboard - 2800 x 2070 x 19mm.

Veneered MDF - 2800 x 2070 x 19mm.
Description
Decorative and luxurious appearence veneer.
Slicing technique crown cut determines a veneer with a central area of strong figurative grain and a more linear effect at each edge.
Because of crown cut there should be very little to no flakes.
Pattern is well expressed with hard lines.
The beauty of this oak veneer is revealed when a relatively large area is covered. Then comes the decorative ornamentation typical to oak.
Crown cut: