Short description
Slicing – quarter and half quarter cut.
Matching – natural (random matching).
Top veneer quality – plus.
Bottom veneer quality - B

Surface – brushed.
Veneer thickness – 0,6 mm.
Price group -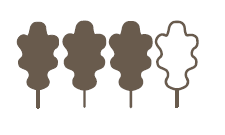 Available ex stock
Veneered MDF - 2800 x 2070 x 19mm.
Description
By chemically processing veneer dark chocolate color is produced. The final effect of veneer is a vivid dark color though it still looks more natural than it would be possible by using stain.
Pattern is a mix of straight and curved as "V" letter form lines. Brushed surface gives veneer more natural look and feeling.
Attention! Open defects as knotholes and cracks are filled with black glue to achieve aesthetic colouring with depth effect. Unfortunately black glue can affect veneer color while processing it.