Briefly
Slicing – quarter cut.
Matching – book matched.
Top veneer quality – basic.
Bottom veneer quality - B.
Veneer thickness – 0,6 mm.
Price group -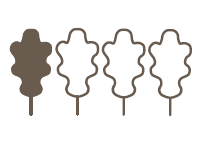 Description
In quarter cut flakes may occur. Flake is the typical figuring of wood when the pithrays are cut across, i.e. at an angle of 180 degrees when slicing. Basic veneer quality determines that:
• More and bigger knots might appear on a board.
• Uneven coloration.
• Mineral streaks (dar patches ir pockets in wood) might appear.
• More flakes than in others quality grades.
• Areas of use - shelves, furniture corpus.
• No uniformity between different boards ofone batch.