Short description
Matching – natural (random matching).
Top veneer quality – plus.
Veneer thickness – 0,6 mm.
Price group -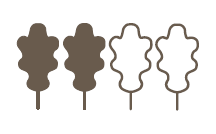 Available ex stock
Veneered chipboard - 2800 x 2070 x 19mm.
Description
The uniqueness of this veneer is the pattern. Due to the special production method, the visible wood grooves in the natural oak veneer form a unique, dramatic and bright pattern.
Should not expect to find uniformity between different plates.
Color - naturally light.
No. 14 Radiata is especially suitable for interiors where natural view of wood is expexted. Can be used for wall decoration or in large rooms with different furniture combinations e.g. theaters, opera houses, receptions.