Short description
Slicing – quarter rift cut.
Matching - book matched.
Top veneer quality – selected.
Bottom veneer - B quality oak.

Veneer thicknees - 0,6 mm.
Price group -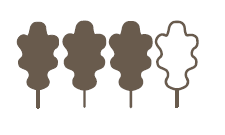 Available ex stock:
Veneered MDF - 2800 x 2070 x 19mm.
Description
The cutting technique used for producing this veneer is rift cut. This technique results in tight and even grain pattern.
Other characteristics of this veneer:
• Lovely and well defined oak pattern.
• Clear and solid color.
• Perfectly fine for decorative use.
• Uniformity between boards of the same pallet.
• The production uses flawless and intact logs with an eye-catching design and structure.