Short description
Slicing
– quarter cut.
Bottom veneer - B quality oak.

Veneer thickness - 0,6 mm.
Price group -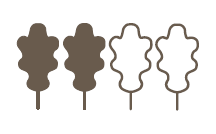 Description
• Suitable for facade parts of furniture.
Medium quality quarter cut veneer. Veneer is perfect for those looking for a natural oak look.
In order for veneer sheets to be assigned to the plus quality level, they must meet higher quality requirements, have fewer irregularities, and those irregularities that are allowed must fit within certain size requirements. Therefore, the mirrors of collection No. 1 Oak Basic are finer than No. 2 Oak Quarter cut. However, you should not expect an uniform image between the panels.